The Oklahoma Green Schools Program has been developed through the efforts of several public and private organizations. An informal committee was formed in 2008 with the purpose of combining efforts to form an awareness campaign. Our goal is to help administrators, teachers and students improve their schools and their environment.There are many, many resources for "green" schools. The information can be overwhelming. This program brings coordination and focus to the green school movement in Oklahoma.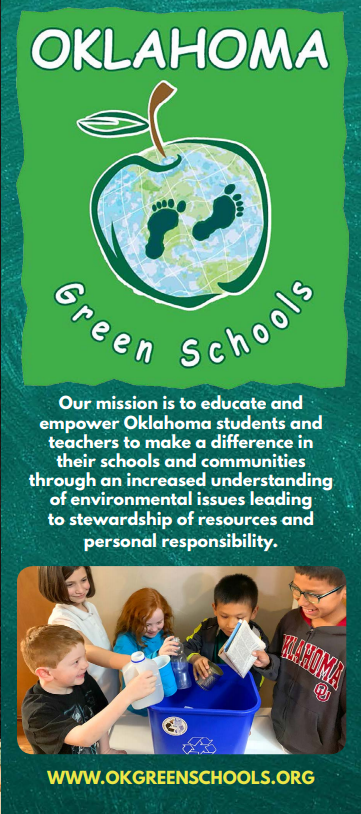 Many Oklahoma educators have expressed the desire for an official program to promote "green" activities within their schools. Representatives from the Oklahoma Chapter of the US Green Building Council joined forces with several other public and private organizations to address that need, leading to the creation of the Oklahoma Green Schools Program. The creators and developers of the program brought their expertise, enthusiasm and various interests to one common platform, to give schools a single source for tips, information, and approaches to "greening" their schools. It is the goal of the program to bring coordination, focus and encouragement to the green school movement in Oklahoma.
The program was launched for the 2009/2010 school year, in a "pilot" phase. Ten school districts participated. The program is growing as more agencies, schools and other partners are joining the effort. In 2012, the Oklahoma Green Schools Program received nonprofit Section 501(c)(3) status from the Internal Revenue Service.
The mission of the Oklahoma Green Schools Program is to educate and empower Oklahoma students and teachers to make a difference in their schools and communities through an increased understanding of environmental issues leading to stewardship of resources and personal responsibility.